One of the things I have found over my years of designing, creating, and printing wedding stationery is that a lot of my clients are unsure of the 'correct' way to word their wedding invitations. My normal answer is that there is no longer a correct way. Traditionally there was set wording that was always used, but times have changed, and couples are regularly putting their own stamp on their wedding suite, not only with the looks, but with the wording too.
That being said, there are still some rules that should apply. Putting your own personal touch on the text is a great way of making your wedding suite truly yours, but you still have to ensure that all of the details your guests need to know are included. Below I have written out the answers to some of the questions I am asked frequently to help any budding bride, so that they do not get stuck with writers block!
Save the Date cards:
Save the date cards are more of a modern invention. Being so, means that there is no tradition or rules when it comes to the best way to word them. The one thing you must remember when writing the copy for your save the date card, is that it is not the wedding invitation. Do not over complicate things. The save the date is purely there to ask your potential guests to put the date in their diary so they do not get double booked. You do not want to include the specifics of the wedding. Apart from the date, the only time you might want to include a specific is if the wedding is abroad, so that your guests can start looking accommodation and flights.
Most of the save the date cards we produce are very simple, take the image below for example.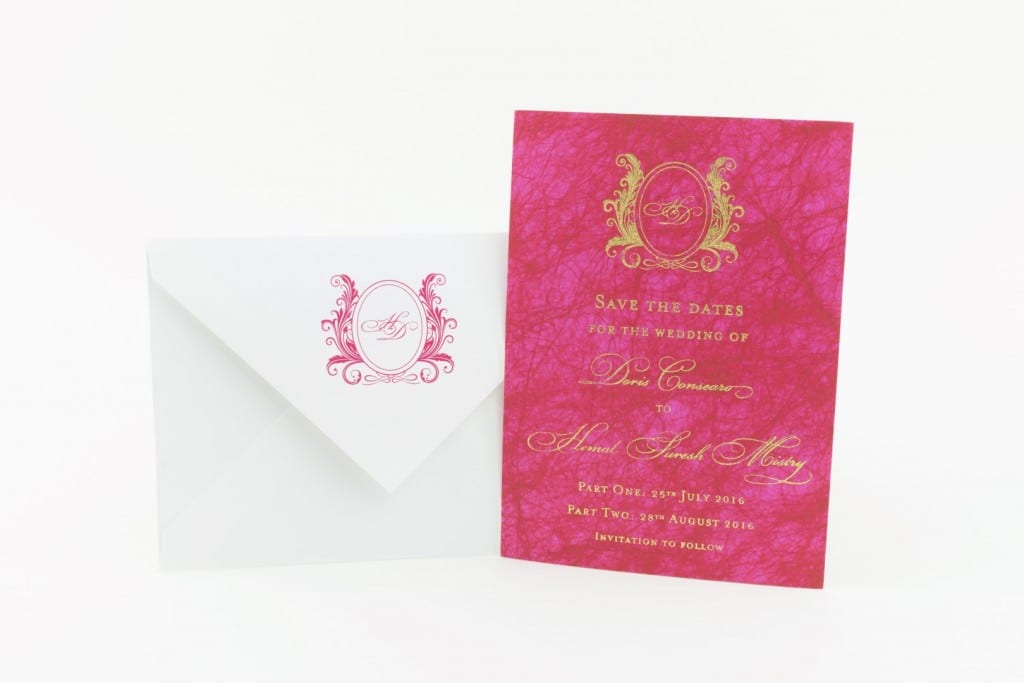 All it has are the couples name, and the dates they want you to save. Everything else will be included in the main invitation suite. Of course, if you would like to add a little more you to your save the dates, then get creative. Personal monograms, patterns, exquisite board types will most definitely win you some brownie points. Remember, the save the date card is the first idea your guests are going to have of your wedding, so perhaps using the colours of your wedding scheme, or some kind of image to give them a clue to your big day. Of course, you could just keep it simple to keep them guessing!
Ceremony Invitation:
The main piece in your wedding suite. Nowadays, traditional rules do not necessarily apply, but this does depend on the type of wedding you are having. If the couple are having a very traditional British wedding, they will often opt for the engraved folded card, printed in black ink on a natural white 400gsm woven board. These invitations measure 8 x 12 inches, and are then hand ceased and folded in half, creating an 8 x 6 inch card that sits just like a greetings card. The purpose of this was so that it would sit, pride of place on your mantle. In recent years, couples who are still going down the traditional route, but want to add a little touch to this style often change the ink colour, and sometimes the board colour. If you have chosen this style of invitation, creative wording is not usually used. The example below will give an idea of the look and wording of this style of invitation. A staple item for stationery purists.
Nowadays however, weddings are becoming more of an expression of the couples personalities. Mixing print methods, non linear board choices, creative wording, with technology meeting tradition, a good stationer will be able to create you stunning invitations using modern designs but still using the oldest print methods. With parents not necessarily being involved, civil ceremonies, different religions and destination weddings becoming increasingly popular, who says you have to stick to the traditional route? Pick a style that truly means something to you and your partner. A colour scheme that matches that of your big day. Design yourselves a motif and monogram (your stationer should also be able to help you with this if you need it). Have a look at our bespoke section to help with some ideas of a non-traditional invitation.
R.S.V.P. and Info Cards.
Reply cards are often sent out with the main wedding suite. The two main options here are either a double sided card, one side with the R.S.V.P. information, and the other with the return address, or alternatively a single sided card with the same R.S.V.P. information, and then a return addressed envelope. It is polite to include a stamp on the cards so that your guests can post these back to you. In the age of social media, couples are sometimes opting to have no R.S.V.P. card, but instead including an email address, or sometimes a website or app where you guests can reply. The websites and apps are also a way to include all of the additional information your guests need to know about your wedding, which brings me to my point.
With weddings now often being multiple location affairs, or sometimes spread over a few days, you need to ensure that your guests know all there is to now about your upcoming nuptials. The items that should be included on these are:
Ceremony address.
Ceremony start time.
Reception address.
Reception start time.
Dress code.
Contact numbers.
Parking information.
Local hotels (for guests that need to stay over)
Gift list information.
Thank You Cards:
The wedding is all done, you had the most amazing time with your now husband/wife and guests, and you are returning to every day life. But there is one thing left to do! It is not only tradition, but also polite to thank your guests for attending your big day, and also for any gifts you may have received. Thank You cards can be readily bought in most stationers and stationery websites, but again nowadays they are another way for you to add a personal stamp to this traditional item. If you included a monogram or motif on your stationery, why not also include this on your Thank You cards? Or if not, perhaps having the cards in the same colour scheme as the wedding, to keep with the theme. At Leeming Brothers we have packs of various colours Thank You cards available, with matching envelopes with marbled lining, which are proving very popular!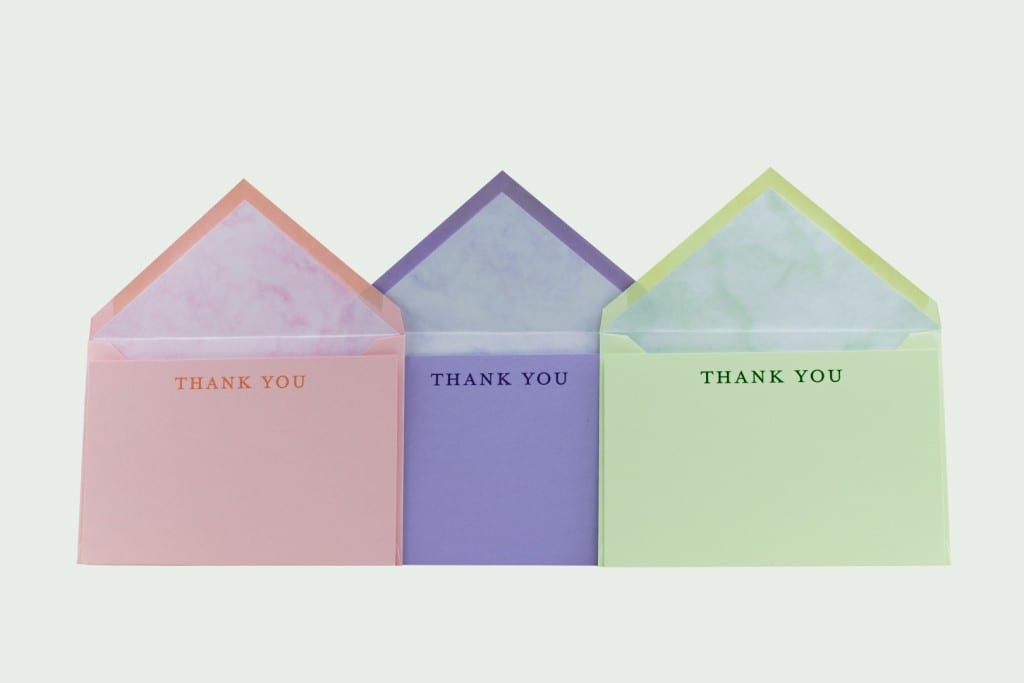 This little post should give you more of an insight into what you need to know with regards to your wedding stationery. But of course, if there is something that you would like to know that we have not included, please do let us know.
Written by Lewis R. Stevenson.